Listen to live fire-
ground operations from the Salem County Emergency
Operations Center
Listen Now
91 First Street
Pennsville, New Jersey 08070
Telephone:
856-678-5981
Message Center
Springtime Fire Safety
Spring is here once again. Here are some tips that will help keep your family and home safe this season: • Clear leaves, debris and other yard waste from around the home, garage and storage sheds. wn equipment such as mowers, weed trimmers and leaf blowers. conta iners......
Recruitment video
Recent Gallery Entries
2015 Firefighter Of the Year
VFW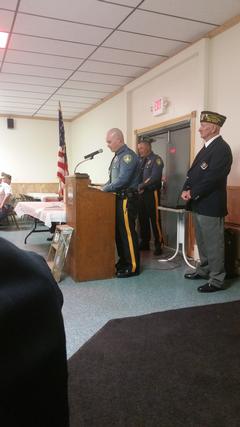 On Wednesday, April 15 2015, the VFW hosted their Annual Emergency Services Award Night. Lieutenant Alan Parkell II received the "Firefighter of The Year" award for Pennsville Fire & Rescue Co #1. Lt Parkell has been with the Company since April of 2010. Since that time, Lt Parkell has also served on the Membership Committee". He has also attended a long list of training classes which has been a big contributing factor in his advancement; not to mention his passion for the job. Alan also serves the Township of Pennsville as an EMT/FF. Congratulations and keep up the Great work! Pennsville Fire & Rescue Co #1 would also like to congratulate Police Officer Endres Jr. for receiving the "Police Officer of The Year" award for Pennsville Police Department. Officer Endres also serves as Captain in Pennsville Fire & Rescue Co #1. Captain Endres has been with the Company since 2002. During his affiliation with the Company, we have seen him progress and excel through his Police career from Sheriff Officer to where he is today in the Pennsville Police Department. Captain Endres has also done a great job going to numerous fire training classes and he is another key example of a leader in Pennsville Fire & Rescue Co #1.
Ice rescue training
Pennsville Park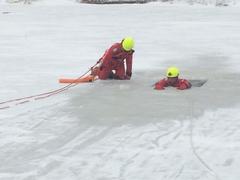 On March 1, 2015 members of Pennsville Fire & Rescue held the practical portion of ice rescue training under the instruction of firefighter Rob Desparrios. Firefighters and EMS personnel assembled at Pennsville park to brave the icy waters. Training included (but not limited to) scene safety, operation of throw bags, safe operations for line tenders, various maneuvering techniques on the ice, edge protection gear and equipment, donning and doffing of dry suits, and various rescue techniques.
Recent Alarms
Saturday July, 4 2015 @ 18:17

Tuesday June, 30 2015 @ 20:29

Tuesday June, 30 2015 @ 13:23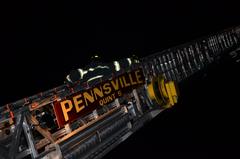 Make a donation to the Pennsville Fire & Rescue Co. #1 & help us to continue helping our community!
Donate Now