Listen to live fire-
ground operations from the Salem County Emergency
Operations Center
Listen Now
91 First Street
Pennsville, New Jersey 08070
Telephone:
856-678-5981
Latest Photo/Stories
Commercial MVC
Pennsville Township
In the early morning hours of December 4th, Rescue 5, Engine 7, and BLS 5 were dispatched to a report of a motor vehicle crash. Deputy Chief Chambers responded in Command 5 and established command. Command alerted incoming units that the incident entailed a box truck that had struck a utility pole knocking out power to the south end of town as well as parts of Salem and Elsinboro and ended up on it's side with the patient out of the vehicle. Rescue 5 assisted with patient packaging. BLS 5 transported the patient to a local hospital.
Company Meeting
Station 5
On Wednesday - December 3, 2014 Pennsville Fire and Rescue Company No. 1 held annual elections for 2015. The following are the results:
- Line Officers
Chief - Larry Zimmerman Deputy Chief - Rob Chambers Battalion Chief - Chris Hagan Captain - Jimmy Endres Jr. Lieutenant - Alan Parkell II
- Executive Officers
President - Andy Fredo Jr Vice President - Jeff Maddocks Recording Secretary - Greg Cooper Treasurer - Dave Tomlin Jr.
-Trustees
> Sean Dennis > John Fitzpatrick II > Jacqueline Windfelder
- Supervisor of Station Cleanliness and Order
> Charlie Cowperthwait
We would like to congratulate all the Elected Officers; returning & newly appointed. We are all looking forward to another year of dedicated service to Pennsville Township and the the Salem County Community.
Recent Gallery Entries
Firefighter 1 Graduation
Salem Community College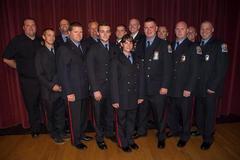 On June 10th, 2014 the Salem County Fire Academy held it's graduation ceremony at the Salem Community College. After nearly 6 months of grueling physical work, intense mental training and testing, and copious amounts of dedication 4 of Pennsville Fire & Rescue members completed the Firefighter 1 course. Graduating members include firefighters Aaron Hefner, Chris Strouse, Jackyln Windfelder, and Justin Dancer. In addition to graduating firefighter Strouse earned the perfect attendance award and firefighter Windfelder exemplified the utmost pride and dedication earning the perfect attendance award, the firefighter health and fitness award, and the PSE&G Instructors choice award (signifying the candidate who demonstrates superior knowledge, skills, dedication, and abilities as determined by the instructors during the course).Pennsville Fire & Rescue is very proud to call you all one of our own. Your hard work is appreciated, keep it up, and congratulations ladies and gentlemen! This is only the beginning. welcome to the best and one of the most rewarding careers in the world!
Pennsville VFW Firefighter of the Year
Pennsville VFW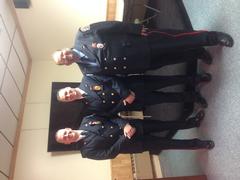 On June 6th, 2014 the Pennsville VFW conducted their annual emergency service awards ceremony. We are pleased and proud to announce that this years firefighter of the year is Battalion Chief Bryan Johnson. Chief Johnson has served with the Glasboro Fire Department for many years before coming to Pennsville Fire & Rescue. He has been with Pennsville for the past 8 years having served previously as Captain before being promoted to Battalion Chief this year. His continued dedication, pride, and honor is highly valued and appreciated here at Pennsville Fire & Rescue. Station 5 is proud of Chief Johnson as well as the other recipients of these awards to include Deepwater Fire Department, Pennsville Police Department, Salem County Sherriff's Office and Pennsville Township Ambulance Department. Thank you all for the continued hard work. Special thank you to the Pennsville VFW for making this possible. Congratulations Battalion Chief Johnson!
Recent Alarms
Tuesday January, 27 2015 @ 12:08

Sunday January, 25 2015 @ 13:33

Saturday January, 24 2015 @ 23:15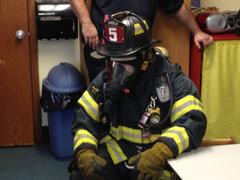 Make a donation to the Pennsville Fire & Rescue Co. #1 & help us to continue helping our community!
Donate Now